Choosing a surface for playgrounds today is a very different experience from even two decades ago. In the past, communities building a new playground might head over to the local wood waste recycling and mulching facility, landscaping materials warehouse, or to a local contractor to pick up whatever mulch, gravel, or sand was handy. This material would be piled under the playground equipment without too much thought for aesthetics, long-term maintenance, accessibility, or safety.
Today, choosing a surface is more complicated, but infinitely more rewarding. Communities building a playground are more likely to be found consulting with a playground designer or landscape architect to design a custom space that is unique to their play area and their community's needs. As a result, more playgrounds are being constructed in ways that are more safe, sustainable, and more visually enticing for kids and their parents.
Safety surfacing has undergone remarkable innovations, allowing designers incredible flexibility when it comes to creating custom designs that make a visual impact and keep kids safe. From slip-resistant poured-in-place rubber surfacing to natural-looking turf and rubber mulch, SpectraTurf safety surfacing allows for both creativity and reliable performance.
Here are just some of the ways designers have created a big impact on their communities by creating a custom design for their playground surfacing: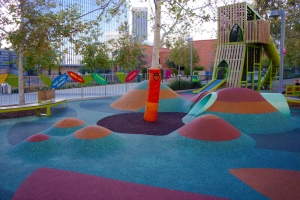 This community park's design did not fall flat when they added raised topography throughout the play area. Brightly colored surfacing highlights the changing topography and invites the kids to play on the slip-resistant mounds.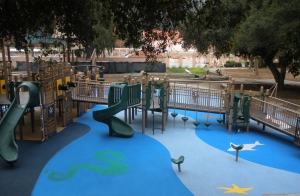 This park's designer chose a pirate theme, including constructing a pirate ship and lengthy gangplank to come aboard. To complete the imaginative illusion, they designed the surface to look like flowing water, complete with sea creatures. All aboard!
Context is critical in playground design, and this designer wanted the park to blend with the natural trees and open spaces surrounding the area. SpectraTurf creates the look of grass while providing a safe, clean, easily maintained surface for kids to play on. Just think of the fun they have rolling down the hill and scrambling up again!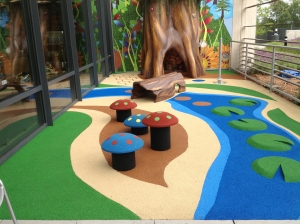 This small park made the most of its space by using SpectraPour safety surfacing to paint a beautiful woodland scene, complete with lily pads ripe for leap frogging in a blue stream. The rubber poured-in-place surface easily adapts to large flowing swaths for the simulated water as it does for the small circle details on the mushroom caps.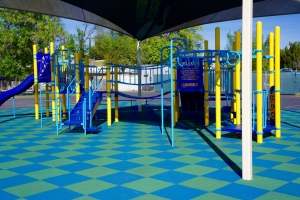 There's a safety surface system for every style, including those who prefer the clean and structured look of tile. This park's use of repeating blue and green rubber tiles provides an orderly yet visually exciting look drawing the eye toward the main feature: the playground equipment.
SpectraTurf's solutions allow designers and architects to explore the limits of their imaginations when designing a playground. The wide range of surface systems available means they can take into consideration variables such as context, topography, community needs, and visual appeal. Each of the products also withstand the challenges of heavy outdoor use, including withstanding the damage caused by UV rays from the sun.
For more inspiration for your upcoming project, check out our small collection of ideas in our gallery. The possibilities are endless for creating a unique, custom design for your park. Create the best possible experience for your area: contact us to get started.