SpectraPour CA: CalRecycle Rubber Playground Surfacing
Safety Playground Surfacing
---
SpectraPour CA safety playground surfacing is designed to meet the requirements of the California CalRecycle Tire Incentive Program and to date, our involvement in this program has diverted approximately 123,255 from going to a landfill. SpectraPour CA uses a special blend of California-derived reclaimed materials, which meets the program's requirement. Other than changes to the cushion matrix, SpectraPour CA is visually identical to SpectraPour, our pour-in-place rubber safety playground surface.
For qualifying agencies, municipalities, school districts, and other grant recipients, SpectraTurf will provide assistance and grant certification for owners working within the CalRecycle grant programs when using SpectraPour CA. Contact us for more information for grant certification assistance.

SpectraPour CA is a multi-layer system of shock-absorbing rubber material and a top layer of EPDM rubber granules. SpectraPour CA is mixed on-site, which makes creating unique designs, using brand colors, or adding logos and geometric shapes simple and efficient. SpectraPour CA may be used to provide ADA access to existing playgrounds, to retrofit existing play areas, or to fill entire new playgrounds with quality rubber surfacing that stays in place during use. To date, our involvement in this grant program has diverted approximately 123,255 tires from going to a landfill.
---
SpectraPour CA System Data
---
Multi-layer system – mixed, poured & troweled on-site

Base layer(s) of shock-absorbing rubber material
Half-inch-thick wearing surface of rubber granules

Available in 20 colors (colors can be mixed)
Create custom shapes and designs
Porous system may be installed over Type 2 road base, concrete, or asphalt surfaces
Typically used outdoors
Conforms to ADA requirements
IPEMA Certified

ASTM F1292 for head impact protection
ASTM F1951 for wheelchair accessibility

Available for our Ecore™ TRUcircularity™ Program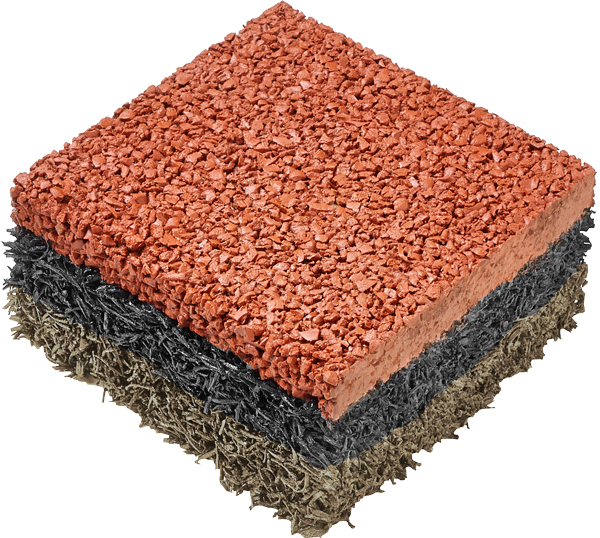 ---
Warning: Like so many surfaces – including asphalt, sand, metal and plastic, all of which can be found on playground environments – rubber surfaces will get hot when exposed to direct sunlight. SpectraTurf strongly recommends that children wear shoes when playing or walking on any rubber surface, regardless of the manufacturer or specific type of surface.