Families in the Long Beach, CA, area can now enjoy an inclusive playground experience in Lincoln Park. Part of the large-scale revitalization happening at the Long Beach Civic Center, the City wanted a play experience that was aesthetically beautiful, fun, inclusive, and accessible.
Location: Lake Balboa, CA
Surface System Used: SpectraPour 
Completion: September 2022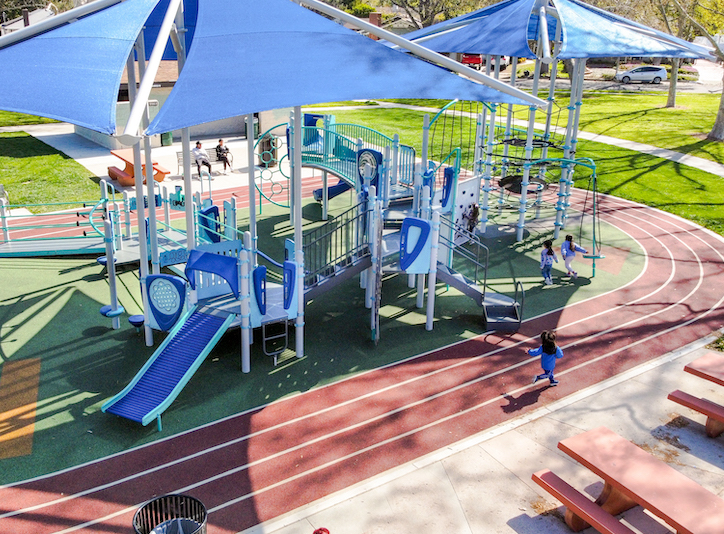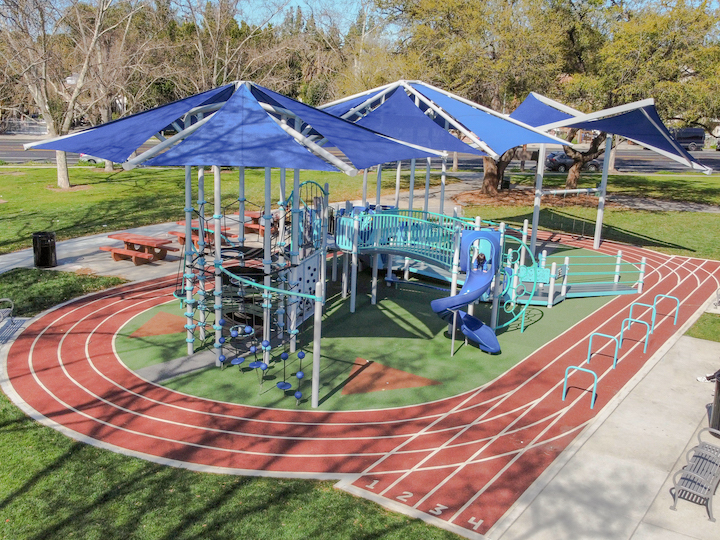 ---
---
Overview
Jesse Owens Park, located in the Lake Balboa neighborhood of Los Angeles, California, sat in a state of despair for several years. It was an eyesore in the community, littered with garbage and graffiti. But thanks to one local resident's vision and the help of fellow neighbors and local civic leaders, the park got a new lease on life.
Unique Project Features
The park celebrated its grand reopening in late 2022. It is named after Jesse Owens, an American runner who won four gold medals in the 1936 Olympics in Berlin, Germany. Today, he's still considered one of the greatest athletes of all time.
Many features in the park pay homage to Mr. Owens and the sport of running. But perhaps the most notable park attribute is the playground surfacing which is designed to look like a running track that encircles the playground equipment. It features SpectraPour, the flagship pour-in-place system from SpectraTurf.
SpectraPour's unique two-layer system includes a base layer of shock-absorbing rubber material and a half-inch thick wearing surface of rubber granules. These features, along with a 22-color portfolio and the ability to create custom shapes and designs, make SpectraPour a very popular choice for safety playground surfacing.
Other playground features at Jesse Owens Park include special sensory play equipment and ramps that are accessible for children with mobility devices. Park visitors can also enjoy motion play on a swing set, slide, and a unique climbing wall that features images of Owens.
Children of all ages and abilities are sure to enjoy this special place for years to come, thanks to a devoted community that came together to turn a vision into reality.
Photo Credit: Anna Alverio
---
You can count on the experts at SpectraTurf to make your dream playground a reality. No matter the level of detail in your design, we can make it happen! Contact us to get the conversation started.