Families in the Long Beach, CA, area can now enjoy an inclusive playground experience in Lincoln Park. Part of the large-scale revitalization happening at the Long Beach Civic Center, the City wanted a play experience that was aesthetically beautiful, fun, inclusive, and accessible.
Location: Whittier, CA
Surface System Used: SpectraPour Supreme
Completion: Summer 2022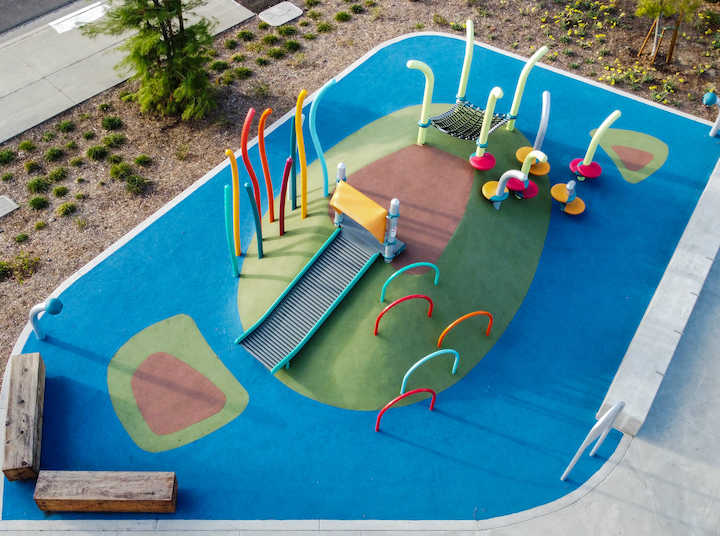 ---
---
Overview
The Greater Whittier Regional Aquatic Center is a new public aquatic facility located in the community of West Whittier, Los Angeles County. The sprawling center includes a competitive swimming pool, a practice pool, and a number of recreational amenities.
From beginner swim lessons to water polo and aqua aerobics, there's truly something for everyone to enjoy at this state-of-the-art aquatic facility.
Unique Project Features
The main entrance to the Center features a colorful playground for children ages 5-12. The rubber surfacing for this space features SpectraPour Supreme from SpectraTurf.
SpectraPour Supreme is the highest quality playground surfacing solution on the market. It uses a higher-density, smaller particle size (0.5-1.5 mm Spectra TPV granule) in the top layer with our high-quality, UV stable aliphatic binder, all over a shock-absorbing rubber base pad.
Mixed on-site, SpectraPour Supreme offers the ability to customize any surface with colors, designs, and shapes. For the Greater Whittier Aquatic Center playground, the surface is designed around the facility's water theme.
Three "islands in the sea" are featured on the multi-color playground, with the larger center island being a raised play "mountain" surrounded by colorful playground equipment including a climbing net, roller slide, and fun pool noodle stations.
With this creative and interactive play area, young visitors to the aquatic center can have some fun before they head to the pool for a swim!
Photo Credit: Anna Alverio
---
You can count on the experts at SpectraTurf to make your dream playground a reality. No matter the level of detail in your design, we can make it happen! Contact us to get the conversation started.